Flow measurement
Differential pressure flowmeter
Differential pressure flow meters are standardized and proven flow meters.
Their calibration is thus superfluous and their accuracy guaranteed according to the standards in force (ISO 5167, ISO / TR 15377, ASME-MFC 3M ...). They have the advantage of being reliable, economical and robust. They can be used for all types of fluids in liquid, gas and vapor form.
Specific solutions can be proposed in order to ensure reduction of straight lengths (multi-hole orifice plate), reduction of possible leak sources (compact flowmeter), increase of accuracy measurement (meter run), increase of turn-down ratio (double transmitter solution) or increase of orifice life time in presence of corrosive and agressive fluids (specific coating of the orifice).
The principle of the differential pressure flow measurement is to insert in a circular pipe a restriction which generates a pressure difference between the upstream and the downstream of this restriction.
The measurement of this pressure difference (called ΔP) is transformed by a differential pressure sensor into a 4-20 mA signal and then translated into a flow rate according to the law: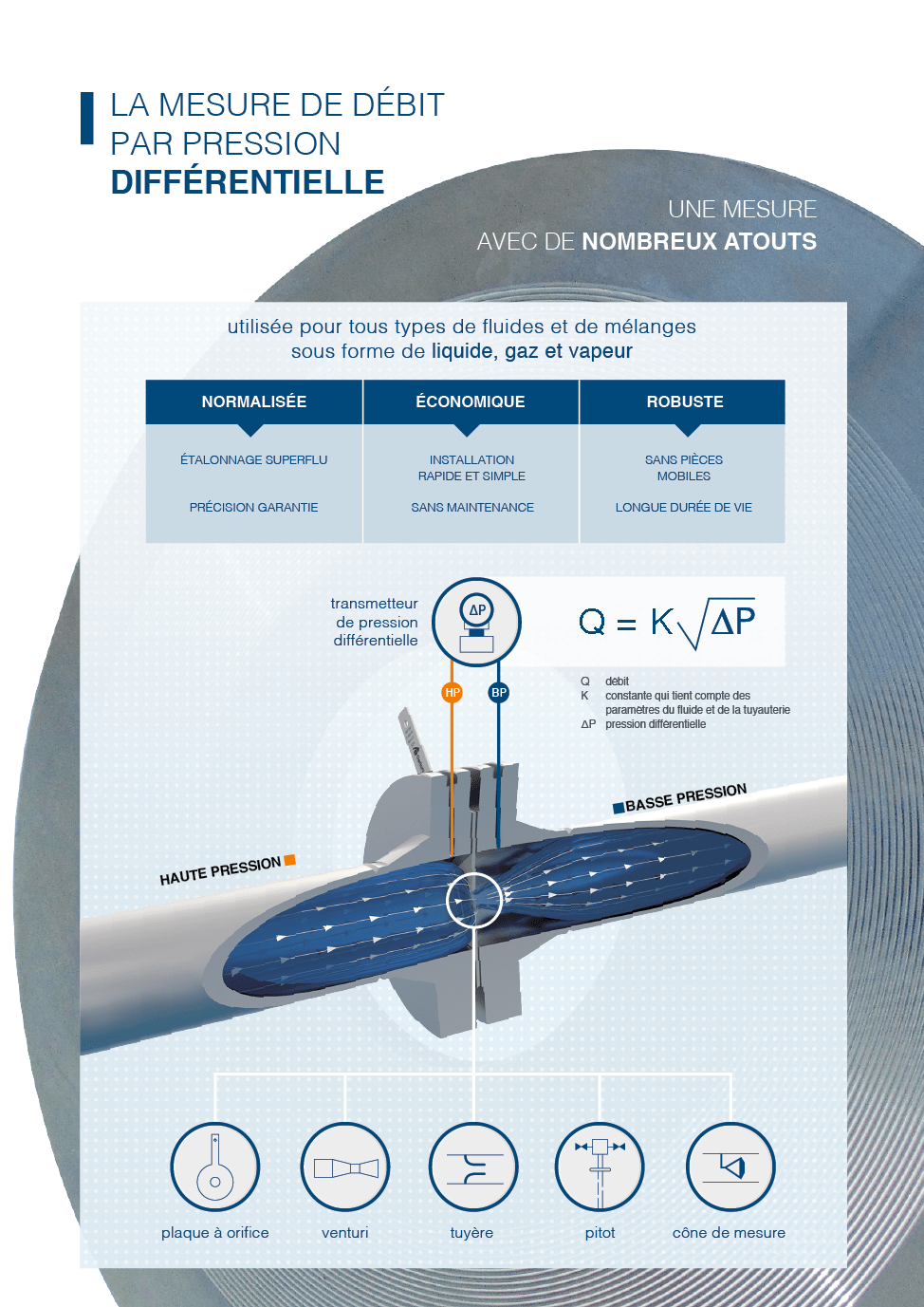 Q being the flow
K a constant that takes into account the fluid parameters, the viscosity, the roughness of the pipework, the density of the fluid, etc.
Δp the differential pressure (upstream pressure - downstream pressure).
This table is a tool to help select the primary element of flow measurement. Depending on the type and characteristics of the medium to be measured, you can get a first idea of ​​the specific flowmeter for your application.
Attention, it's a first approach; it is then imperative to validate the choice by a calculation made by our specialized design office.
For the calculation, we need information about your process.