Custom Design and Manufacture
Our dedicated team of engineers and technicians develops
custom made
proposals using our key skills :
Engineering and flexibility studies for pipelines
Fluid mechanics
Process instrumentation
Mechanical manufacturing and machining
Thus, Deltafluid assists you in your projects for:
studies and manufacturing of mechanical parts; we are specialized in the manufacturing of single and prototype parts, welded assemblies and special tools.
studies and manufacturing of flow measurement & temperature measurement systems; we study the flow of fluids, conduct simulations if necessary and propose the best way to instrument your processes.
flexibility studies for pipelines, pipes and penstocks; we are able to analyze the constraints supported by the pipes and advise you for a good integrity of the structure.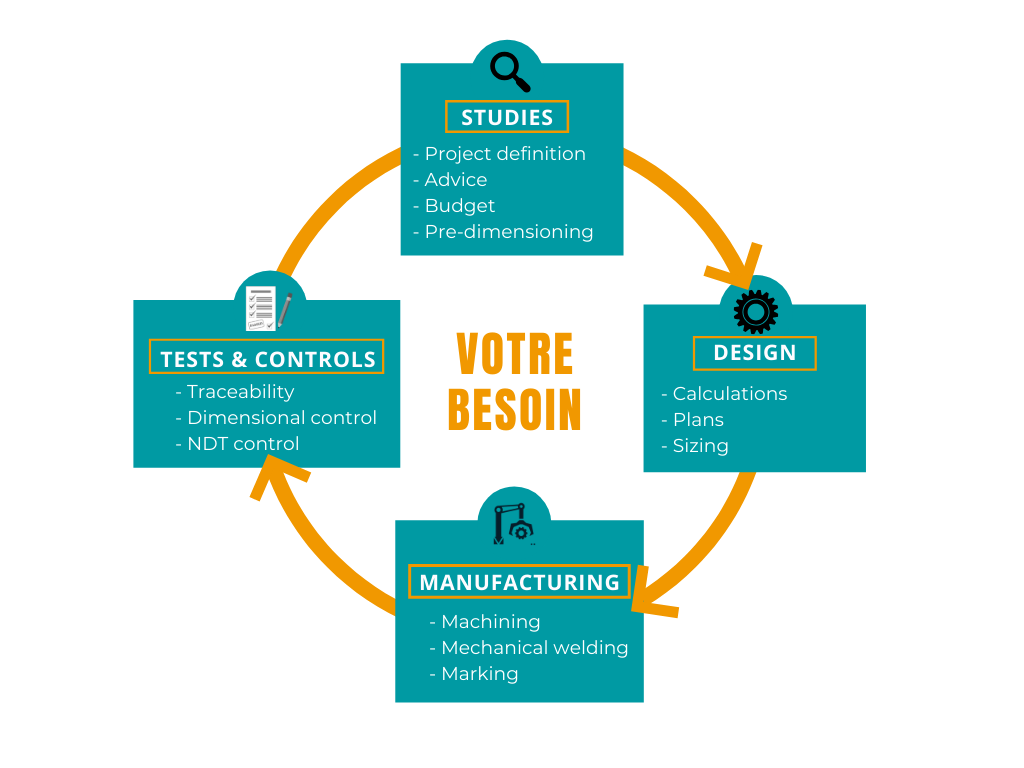 From a human point of view, our team of experienced engineers, technicians and operators brings you :
advice & availability
responsiveness & flexibility
From a material point of view, we implement :
powerful calculation software & 2D and 3D drawing tools, coupled with digital simulation software
machines with simplified programming for fast manufacturing of your parts & control and test tools
We put all our skills to help you build a CUSTOM-MADE solution adapted to your needs.
Deltafluid follows a Quality policy defined as part of our ISO 9001: 2015 certification.
We ensure :
the evaluation and audit of our suppliers of raw materials,
the traceability of the materials as soon as they enter our workshop,
the evaluation and audit of our internal studies and manufacturing processes,
which helps to offer you a service and products of high quality.
Being attentive to your needs, being reactive also remains the basis of our commitment and our trust relationship with you.
For more details, please consult our Quality page.
Please see below our most frequently asked questions / answers.
If you do not find the answer you are looking for, please contact us either by phone at +33.(0)5.59.30.85.20 or via the contact form. We will respond as soon as possible.
What kind of "custom-made" Deltafluid offers?