50 years of experience
Deltafluid is a French company specialized in the design and manufacture of flow measurement, temperature and pressure regulation devices. Historically located next to the largest natural gas field in France (Lacq, Nouvelle-Aquitaine), the company has become a leader in the Oil & Gas sector since the early 1970s under the name of DAR (Distribution Accessories Regulation).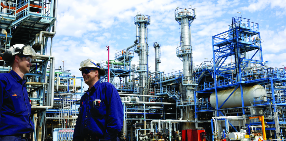 In 2001, the company Deltafluid is created; it fully takes over the activities of DAR, develops a complete range of instrumentation products oriented towards the measurement and regulation of fluids and opens up new markets such as Chemicals & Petrochemicals, Energy, Steel & Iron, Food, Water, Aeronautics ...
In 2013, Deltafluid moved into a new building of 1300 sqm in Lacq and combines the activities of design office and production in one place. The site of over 6000 sqm offers us the opportunity to manufacture and store large parts and is easily accessible for carriers.
At the same time, Deltafluid is developing for export with the support of Total Développement Régional which proposes to host a VIE on its premises in Qatar. This is the beginning of Deltafluid's export adventure in the Middle East. Local partnerships have been signed in Qatar, the United Arab Emirates, Kuwait and more recently in Iran.
In 2016, Deltafluid created the Engineering & Structure department to complete the offer by offering studies (including flexibility studies) and technical advice for the construction and installation of piping, pipes and penstocks.
In 2017, Deltafluid develops in Russia and neighbouring countries, creates an entity in Moscow and establishes a partnership locally to develop this market with specific requirements.
In 2018, Deltafluid, who has always worked in the Energy sector and more specifically Nuclear, officially decides to obtain the referencing of its products in Flow Measurement at the major players of Nuclear in France. This highly regulated field of activity requires the fulfillment of very strict specifications and high standards that we strive to achieve.
In 2019, we are launching our new website for you to easily find all our activities & capabilities, technical data sheets of our products, answers to frequently asked questions and tools.
In 2022 and for over 50 years, Deltafluid brings you daily expertise in the transport, measurement and regulation of fluids.